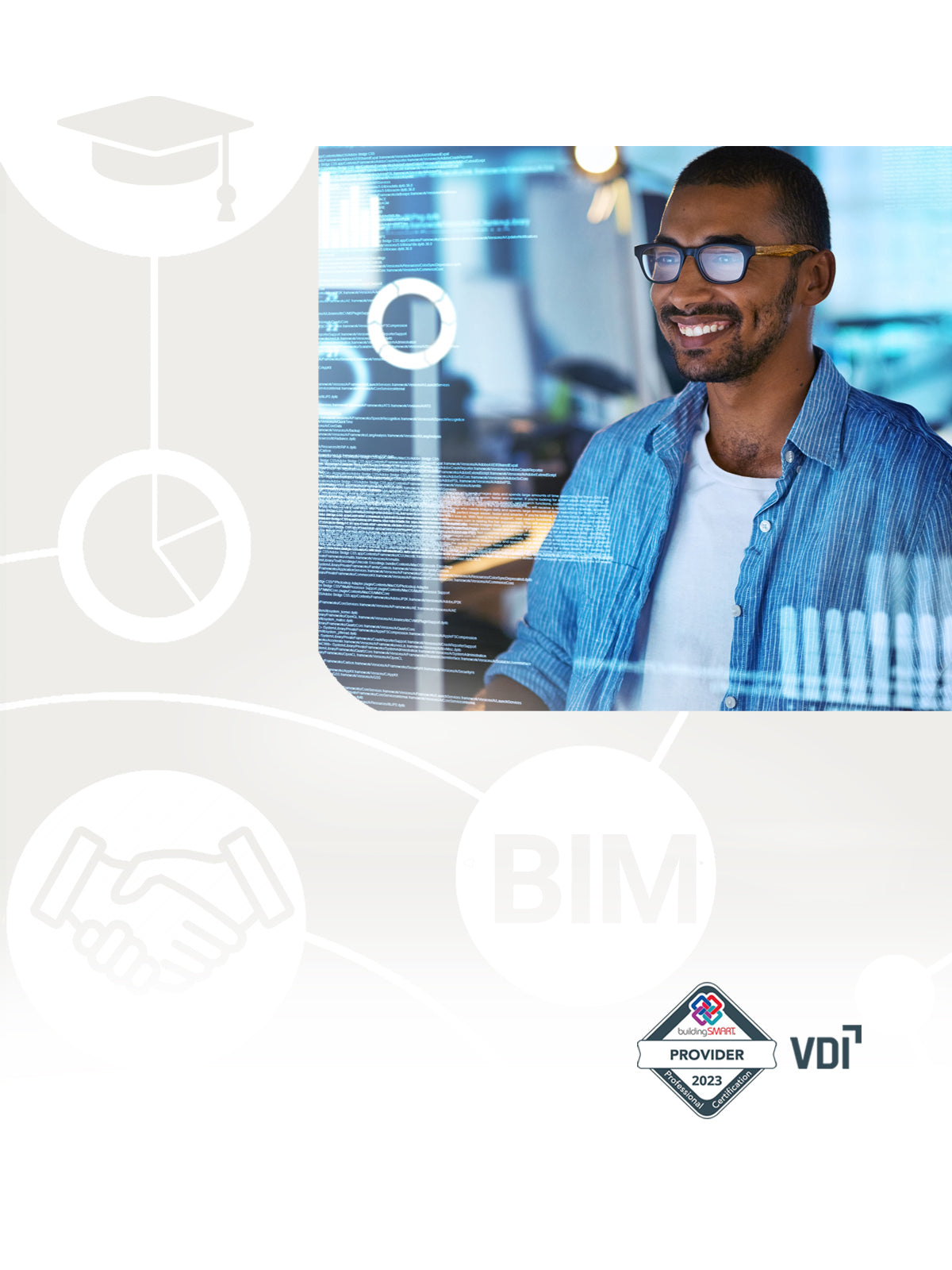 BIM E-Learning
Professional Certification Foundation including buildingSMART Certificate only 695 €
BIM Basic
We are leading BIM E-Learning Provider
1482
...successful participants. When may we certify you?
EDUBIM CAMPUS
is the most innovative provider of BIM training concepts and learning architectures. As one of the first approved training providers in Germany, we are allowed to issue the internationally recognized
buildingSMART Basic Certificat
and are the first German provider of the buildingSMART Practitioner courses
BIM Coordination
and
BIM Management
that build on it.
Like BIM, our teaching method is digital and forward-looking. Our innovative e-learning concept provides you with
BIM knowledge
how, where, when and at what pace you want.
Learn the basics of our BIM training levels by clicking on the hotspots: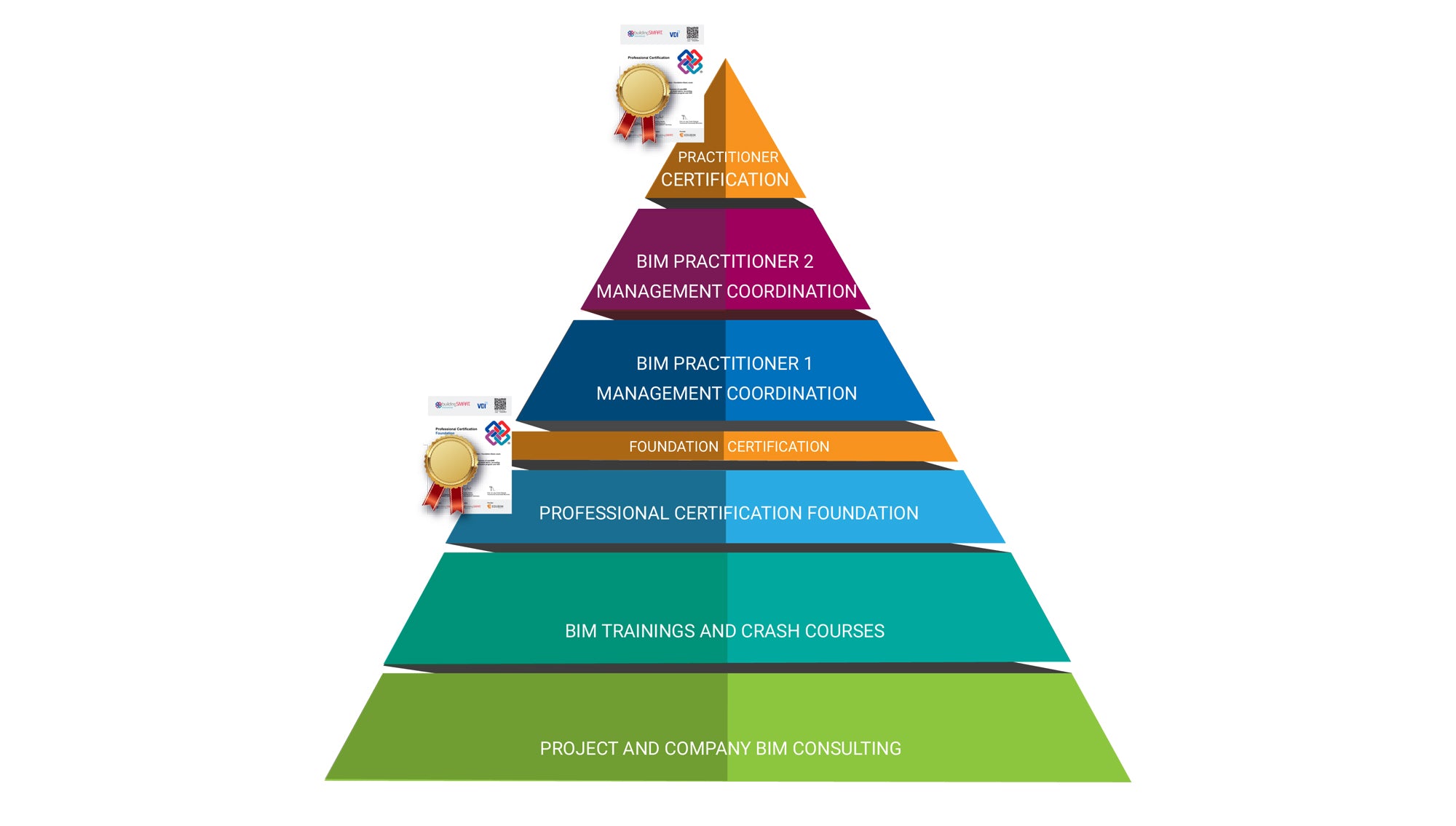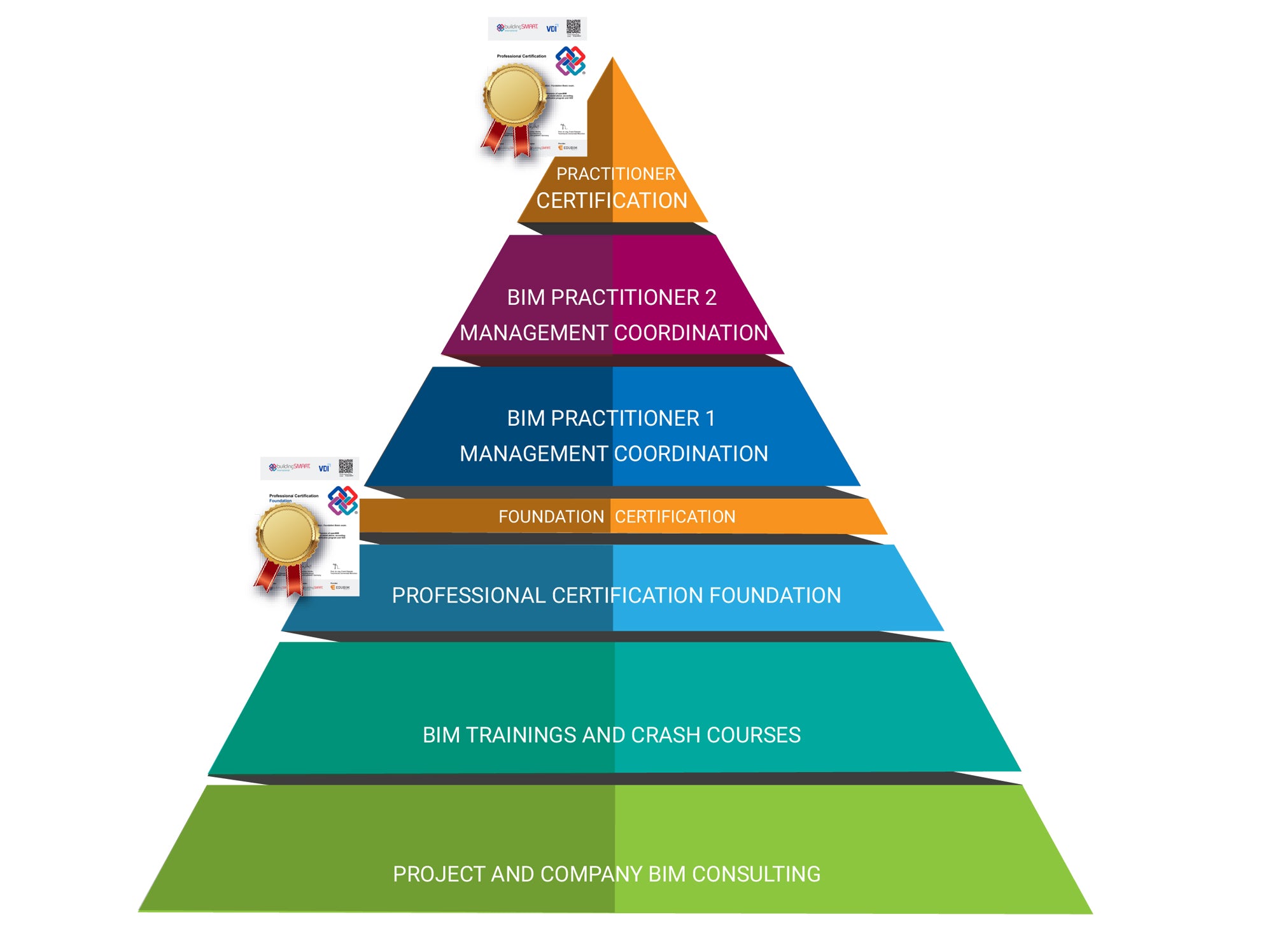 BIM Practitioner | Part 2
Part 2 of the buildingSMART BIM buildup stages for BIM coordination and BIM management.
Includes
The new globally recognized bS/VDI certificate to recognize your BIM competence in BIM coordination and BIM management.
BIM Practitioner | Part 1
The first part of the buildingSMART BIM buildup stages for BIM coordination and BIM management.
Includes
Certificate of participation for recognition of your BIM competence in BIM coordination and BIM management.
Compact Trainings and Crash Courses
Targeted IFC and software Trainings | Compact Trainings when Time is scarce!
BIM support for Project & Company
Project Support and BIM Implementation Customized!

We share Knowledge
Are you just starting to get to grips with Building Information Modeling and your individual approach to BIM? Or are you perhaps already familiar with the method and are already planning, building or operating your projects based on BIM? No matter how you want to use and apply BIM - we offer you the right training. Also with buildingSMART certificate!

Browse our BIM online portfolio

LEARN | QUALIFY | APPLY
With our innovative, customized E-Learning concepts, we enable further education and training on the topic of BIM - no matter when or where you want to learn. From basic knowledge to in-depth training for specific target groups we empower you with our products.

With our BIM certification according to the internationally and nationally recognized buildingSMART standards as part of the "Professional Certification Program", you receive proof of your BIM expertise. Successfully serve competence queries or increase the value on the labor market is goal of our certification program.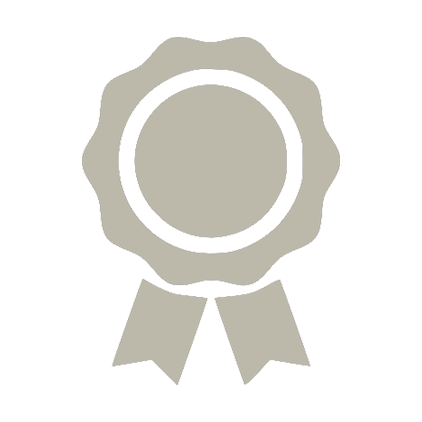 Are you looking for customized training concepts for your company in the design, construction, product manufacturing or operation field? With help of recognized courses for companies or individuals, we enable and certify you to successfully use the BIM method.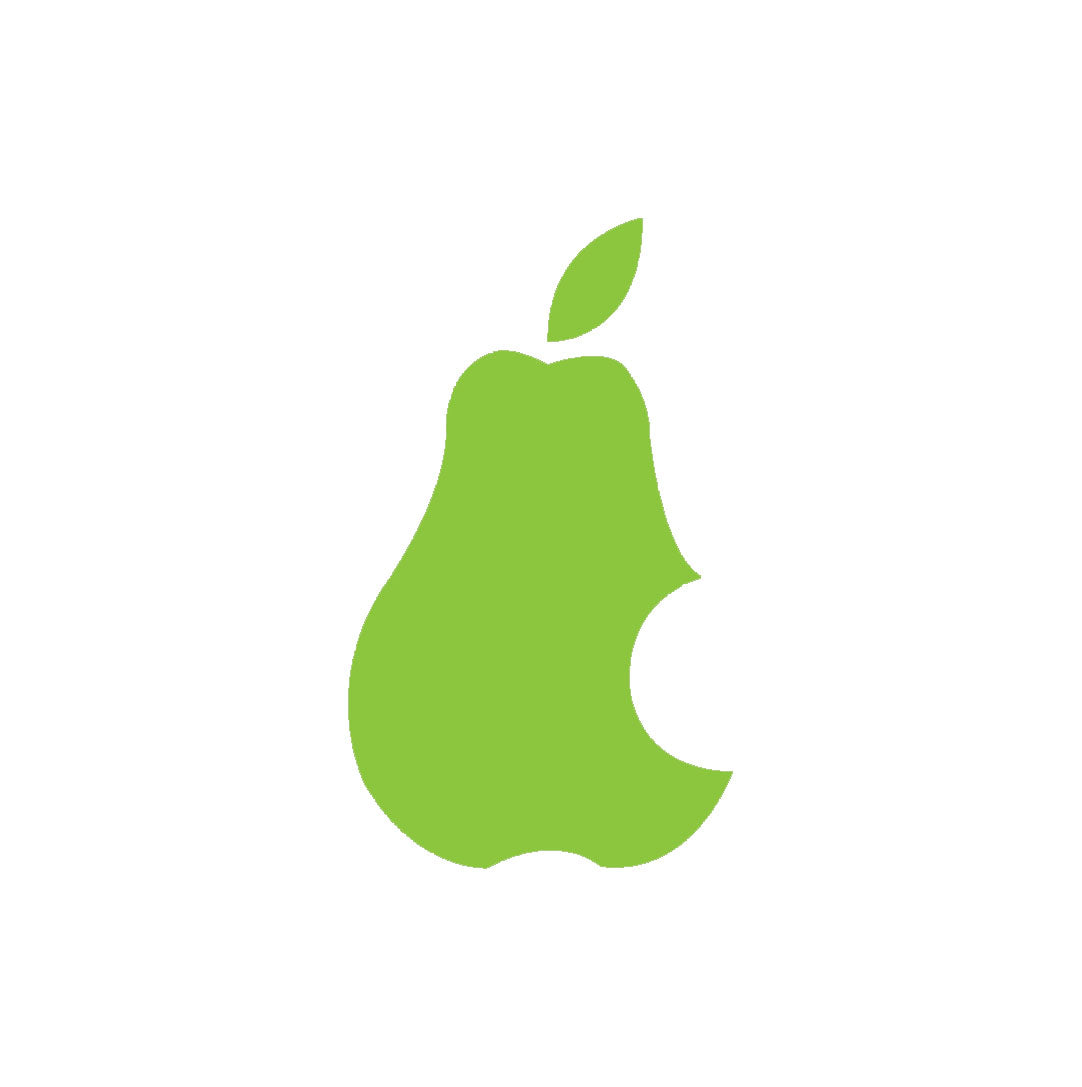 Content & Design
BIM with Branding
We build learning architectures for you and develop training concepts, in which continuous learning will inspires you and your team! We are also happy to create our e-learning products, web seminars and face-to-face events individually combined and personalized for your Company.
References & Testimonials


Christiane Lewandowski | Head of Advanced Training Federal Construction Germany
Office of Federal Construction Germany
The very positive feedback from the first participant survey shows us, that we are on the right track with the training courses. Employees in federal construction are enabled to use the BIM methodology in accordance with the BIM Master Plan for Federal Buildings.
Robert Bäck | Team Leader Training & Consulting
Allplan GmbH
Especially in consulting it is essential to be able to give qualified answers. The EDUBIM Foundation E-Learning provides the corresponding basics. To ensure that we all speak the same language on the subject of BIM, every member of our Training & Consulting team is verifiably qualified.
Ingo Orth | Dipl. Ing | CAD | CAE | BIM Management
HPP Architekten Service GmbH
I highly recommend the BIM Basic E-Learning course because it not only prepares you for the final exam, but also teaches you the BIM know-how in such a way, that you can immediately apply it in practice.
Sebastian Jaeger | Ressort PKS
NETPlan | SWECO GmbH
The EDUBIM Basic E-Learning was easy to understand and very clearly laid out thanks to the flashcards on the EDUBIM Campus. I was well prepared for the upcoming certification exam.The Q&A webinar left no question unanswered....
Kerstin Gericke | Head of BIM Unit
Office of Federal Construction Germany
The BIM method stands for digitalization. Therefore, only a digital approach was considered for the training courses. Through e-learning and blended learning, we can ensure in-depth knowledge transfer while being flexible and taking into account different levels of knowledge in this heterogeneous and large target group.
Olaf Jantzen | Inventory Management
Blum GmbH
Overall, the BIM Basic E-Learning gave me by far the most knowledge that I could never have achieved in face-to-face seminars.

The many attached exciting explanations and field reports in the course have deepened my understanding and brought me a real gain for practice...
Do you have questions about our BIM trainings with buildingSMART certificate?
Find Answers here!
Your question was not answered here?
Then visit our "FAQ" page.
Professional Certification Foundation

• How long does e-learning take? The advantage of e-learning: you learn when, where and at what pace you want. On average, you should need about 12 hours.

• How long can I access my e-learning? You are granted access to your e-learning for six months from the first time you access the product you have selected. In justified individual cases, however, we will be happy to extend this period.

• When will I receive the invitation to the QA web seminar?
If you have purchased the BIM Professional Foundation and have completed 100% of all the quizzes included in the E-Learning, you will automatically receive an invitation mail. The mail will lead you to an interactive calendar where you can register for a date for the QA web seminar.

Book here:

☆ BIM Basic E-Learning with buildingSMART Certificat

BIM Practitioner Coordination & Management

• Are there any advanced courses already?
Yes, we are in the starting blocks for the Professional Certification Practitioner (Coordination and Management). After the seminar, the participants (who have also fulfilled all admission requirements) are admitted to the exam or the exam day.

• Are there any requirements for the Practitioner courses?
Yes, there are! Firstly, all persons must have a buildingSMART certificate "Professional Certification Foundation". If you want to attend the Coordination Practitioner, competencies in object-oriented model building are also required.

Overview & Dates

• BIM Practitioner Coordination

• BIM Practitioner Management
Technical requirements E-Learning

Learn when, where and how you want!
To participate in our E-Learning courses, all you need is an email address to register on our learning platform, an up-to-date browser and a stable internet connection.

Our e-learning courses run on
• Mobil phone
• Laptop
• PC
• Tablet

Try it for free and without any obligation:
BIM E-Learning Demo

Group of Companies
Our Vision: Digital Togetherness

DEUBIM GmbH
Our Consulting Company, focused on the Digitalization of the Construction and Real Estate Industry.

Learn more about us
Our BIM Training Specialist with the highest quality Standards for BIM continuing Education and Training.
Together we are digitizing the construction industry!